About Our Site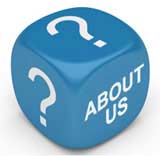 AboutIdentityTheft was formed to offer a unique reference point on how to protect yourself against identity theft and fraud.
In this age of internet and mobile phones our personal data has never been more vulnerable. Identity theft is an increasing problem and it can be difficult to know how to protect ourselves. AboutIdentityTheft is a comprehensive website designed to answer your questions and provide the best guide online to safeguarding yourself against this devastating fraud.
'ID Theft and the Law' takes you through the background of identity theft and what it means to you. An invaluable guide to keeping yourself safe online can be found in the section on 'Internet and Fraud'. From the consequences of mail theft to bank account details the 'Personal Information' area provides you with key information on the kinds of fraud which can take place. 'Protection' offers vital hints and tips to help you safeguard your precious personal identity from theft and its consequences.
This is such an important personal safety issue that all of our information has been provided by our writers with the aim of enhancing your protection. Please do take time to familiarise yourself with this topic in order to help combat the scammers and fraudsters. If you have any further concerns then please get in touch and we will do our best to advise you. Please help us by sharing any tips, information or experiences of this problem by clicking on the 'Tell your story' link.

Related Articles in the 'Site Information' Category...