I Fell for a Fake Website: A Case Study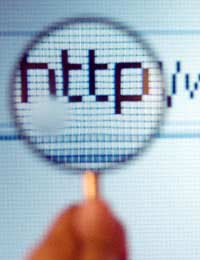 When Caitlyn Harrison got some money from her grandfather for her 13th birthday, she thought long and hard about what she wanted to buy. She finally decided on a special charm bracelet, that she knew she'd enjoy wearing now and would also be a keepsake in years to come.
Caitlyn asked her mum Amber, 43, to help her find the perfect charm bracelet, and the two went shopping online. "We had seen bracelets we liked in a magazine, and Caitlyn was particularly taken by one from Thomas Sabo," says Amber, who's a childminder and lives in north London.
"So we looked together online to see if we could find the one we liked at a reasonable price. We found one for about £120 on was what looked like the Thomas Sabo website and thought we'd order it."
Legitimate-looking Site
Because the name of the site had the words "UK" in it, Amber assumed that the company was based in the UK. The site also looked very professional, with no misspellings or bad grammar. In fact, it looked genuine because the fraudsters involved had committed identity theft, stealing the identity of the genuine website.
"The price was reasonable but not really cheap, so it didn't set off any alarm bells, plus I had a good look at the website and they seemed to be legitimate," Amber recalls.
"Nothing at all about the site seemed questionable. The language seemed fine, and it didn't strike me as if it was put up by someone who spoke English as a second language. So I placed the order, using my VISA."
The site said it would take from seven to 10 working days for the order to arrive, and about five days into waiting Amber's VISA bill arrived. Amber was a bit shocked.
Made in China
"When I looked at the bill I saw that it was coming from China, which I thought was a bit odd. But I waited until the seven days were up before trying to contact the company," Amber recalls.
"At that time I immediately emailed them saying that I had not received a confirmation email from them, and received no response.
"I emailed again a couple of days later, saying actually that we were now on Day Nine and I had not heard from them, and still got no response," she continued.
"By that time, I was getting a bit worried."
Credit Card Protection
Not long afterwards Amber contacted a friend who told her that since she had bought the bracelet using her credit card, she should be covered. "I rang VISA and told them that it had been three weeks and that I had heard nothing from the website, not even a confirmation email," she said.
"I added that the order had not arrived, even though it had already been three weeks, despite the fact the website said my bracelet would arrive between 7 – 10 working days.
"VISA told me I had to wait thirty days and then they would send me a form to fill out that would ensure I'd get my money back. I was incredibly relieved.
"I was very lucky because I paid with VISA, evidently it is just standard practice that your purchases are covered. Otherwise I would have lost £120."
Quick Refund
Amber said that VISA refunded her money in full on her next bill, with a letter saying that they may need to come back to her and answer questions, which so far they have not.
Since then, she has gone back to the website a couple of times to check and see if it's possible to shed any more light on the scam.
"The site had actually set up an account for me, so I could just log back into my account and look at my order. But there never seemed to be any change to the original message, saying my order was pending or something ridiculous like that.
"Recently I went back and couldn't find the website at all, but found it listed under an entirely different name. The website was ever so slightly different, but I could tell it was basically the same website that scammed me."
Safe from Scams
Amber says she will definitely be more careful in future, and be on the look-out for fake websites. While fake websites are common, many look illegitimate, but the one she fell for appeared real.
"I am going to try desperately to not to get my fingers burnt again. I would only use a recognisable website such as John Lewis or Sports Direct, and not fall for any more identity theft website scams," she says.
"Things could have been completely different had I not used my credit card. As it was, it almost ruined Caitlyn's 13th birthday, which should have been a real celebration, not a huge scam."
You might also like...