Identity Theft Facts and Figures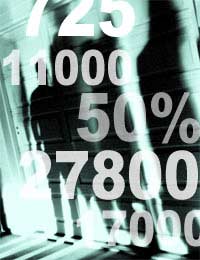 The crime of identity theft affects many people across the UK. Criminals impersonate their victims in order to obtain money, goods, services and other items by fraud.
Types of Identity Theft
The most common type of identity theft is financial identity theft where criminals impersonate an individual's identity to obtain money or goods. Other types of this crime include business identity theft where criminals clone your organisation for their financial profit. Less commonly crooks may perpetrate criminal identity theft – adopting your identity when apprehended for a crime, medical identity theft – in order to obtain medical treatment in countries which require health insurance and finally identity cloning. This last crime is thankfully rare and entails the criminal assuming an individual's everyday life by impersonating them.
'Jackal Fraud'
This is the nickname given to identity cloning using a dead person's passport or birth certificate. It is named after the main character of Frederick Forsythe's novel 'The Day of the Jackal' who assumed three different identities in this way.
Personally Identifiable Information
Usually to undertake identity theft a criminal needs to obtain your personally identifiable information. This is key official documentation which is unique to you and includes such documents as passports, national insurance numbers, electoral roll information, birth certificates and financial information.
Data Protection Act 1998
In the UK the Data Protection Act is the law which protects our personal information and how it may be used by others. It lays out clear guidelines as to who can hold information on us and the nature of what that information can and cannot cover. In England and Wales identity theft cases are also often brought under the 1968 Theft Act.
Scale of Identity Theft
Reassuringly, surveys show the money involved in identity theft cases in recent years as down by two-thirds as agencies develop ever more sophisticated methods to combat it and individuals become more savvy about protecting their personal information. It is estimated to cost the UK over £1 billion per year.
CIFAS the UK's Fraud Prevention Service records an average 75,000-80,000 cases a year of identity theft and takes action to protect over 65,000 individual victims of this insidious crime.
It takes victims of identity theft an average of between 3 and 48 hours to unravel the damage caused by identity theft with the worst cases taking over 200 hours of work. It is estimated that police investigate only the worst 1% of identity theft cases.
Benefit fraud alone through identity theft costs over £800,000 per year.
Main Causes of Identity Theft
Almost three-quarters of cases of worldwide reported identity theft involve stolen bank or credit cards. You can find more information about this in the 'Personal Details' area of About Identity Theft but in brief the best way to tackle this commonest form of theft is to report the loss of your card (or any suspicious activity on it) to the bank immediately. It will then freeze the card so that no further transactions can take place. If you report this in a timely manner then it is the bank and not yourself who should absorb the costs of the fraudulent transactions.
You might also like...