I Fell for a Phishing Scam: A Case Study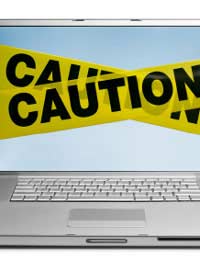 Jack Todey is a businessman and considers himself to be financially savvy. Unfortunately this didn't protect him from falling victim to a phishing scam which caused him considerable stress and could have left him out of pocket.
What is Phishing?
The term phishing is a form of the word fishing and it refers to online attempts to trick members of the public into revealing sensitive private information such as passwords and bank details. The fraudsters set up legitimate looking websites in order to convince innocent victims to part with information that will allow the scammers to clone their identity.
Bogus Email
In Jack's case it was an email which he received that took him in. "It looked absolutely genuine. It came from my bank and said that there had been some unfamiliar activity on my account. I had been using my card quite a bit and so it seemed reasonable to me that they were checking up." Jack banks online and made the mistake of assuming that the email was legitimate. "It had my bank's logo and looked completely genuine."
Where Jack should have been suspicious was when the email asked him to click on a link to enter his personal details. "I realise now that you should never do that. I've since been told that no legitimate bank email will ever ask you to enter your details in that way." The email said that Jack's bank card may be suspended if he did not confirm the account activity. "That's how they work" Jack says "they put in a note of fear so that you feel that it's urgent for you to act. To be honest I just wanted to get my account sorted out so I didn't really stop and think."
Identity Theft
Jack clicked on the link which took him through to a legitimate looking website. He entered his bank account details and, as he thought, straightened out his account. In fact his problems were just beginning. Unwittingly, he had provided the fraudsters with enough information for them to steal his identity. "A nightmare began" Jack says. The fraudsters had soon withdrawn over £1,000 from Jack's bank account. Luckily Jack checked his bank statement online regularly and noticed the withdrawal quickly. He notified the bank and soon realised that he had become the victim of a phishing scam.
"The bank was great, very helpful. I had to report the details of the scam and they then refunded the money to me. I had to change the password on my account and they updated my account details. They also advised me that I was at risk of identity theft and that I should report it to one of the main credit agencies such as Experian".
Reporting the Crime
Jack did report the security breach and discovered that the scammers had indeed applied for a new credit card, having cloned his identity. By reporting it to a credit agency he was able to have the illegal activity nipped in the bud but his credit rating could have been compromised. There is now a note against his name to say that he is vulnerable to identity theft. "It has been very stressful and has involved a lot of phone calls to sort it all out. I would strongly urge anyone to take every step to avoid falling victim to a phishing scam."
You might also like...
I agree with this article and have read it
Jonathan
- 8-Oct-18 @ 9:48 AM
I agree with the article.
Can someone please tell me how to delete my personal details on a private website.
BigBoiRolph
- 13-Mar-18 @ 11:58 AM
It was a windy day, back in marple hall school. I was selling then I saw follet and soiled myself
boulderhead
- 12-Feb-16 @ 9:54 AM
Dear Jack, I am a Researcher working at STV Productions in Scotland. We are currently working on a new TV series about fraud and scams and would be interested in speaking to you regarding our new series. I would appreciate if you could get in touch with me. You can reach me on yourstories@stv.tv. I look forward to hopefully hearing from you, Warm wishes, Kirsty
STVGlasgow
- 17-Jun-15 @ 12:17 PM
I have read the article and I agree with it.