My Bad Experience on Social Networking Site: A Case Study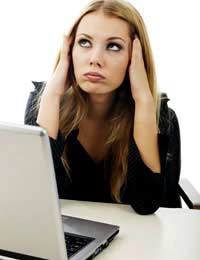 Jackie Smith is one of the estimated seventy million internet users who are members of a social networking site. "A few of my friends had already joined and it looked like a fun way to keep in touch. I also have a brother in Australia and I thought it would be a good way to keep up with photos of my nephew and niece."
Personal Information
Unfortunately Jackie has had a bad experience since joining the site. "I suppose I was a bit naïve." She says "In all the fun and excitement of joining I didn't stop to think about the information I was making available." Jackie was happy for her birthday to be displayed on her page. Her profile also included her photo and details of her location and place of work. Once her profile was set up Jackie was soon sending and receiving friend requests. She didn't pay too much attention when she received a friend request from an unfamiliar name. "I thought it might be because I run a fan club and that they were a fan too."
Bogus Profile
When Jackie clicked on the profile she was asked to log in again and did so without questioning it. In fact she was falling victim to a scam and fraudsters had set up the bogus link to acquire her password. "I would urge anyone not to log in again when they are already logged in to the site. There should never be any need and it is probably scammers."
Identity Theft
Equipped with her password the scammers were able to access further personal details on her account such as her home address and Jackie became a victim of identity theft. The fraudsters applied for and opened three credit cards in her name and ran up bills totalling several thousand pounds. "I was in total shock and disbelief when the bills arrived." Jackie said. "I got so upset by it that I burst into tears. I just couldn't believe it." Jackie phoned the credit card companies and explained that she hadn't opened an account with them. "Pretty soon it became clear that I was a victim of identity theft. It made my blood run cold to think that these strangers had accessed so much of my personal information."
Tackling the Scam
Jackie immediately changed the password on her account and was advised to remove information such as her birthday and location from her personal profile. She was also advised to contact one of the three credit reference agencies to report that she was a victim of identity theft. "The actions of the fraudsters could seriously have affected my credit rating. Now there is a flag against my name warning that I have been the victim of identity theft." Thankfully, the credit card companies accepted that Jackie had been a victim of identity fraud "I was able to convince them that I couldn't possibly have spent the money and thankfully they did not expect me to pay it but the mind boggles at what could have happened."
Jackie felt violated by what had happened. "I would advise anyone to keep their wits about them online. I am still a member of the site but I now keep the information on my profile to a minimum. Always question contact from people you don't know and keep yourself secure at all times."
About Identity Theft is sponsored by Purely Energy, who have funded a lot of our content. If you are looking for a low cost business energy supplier, take a look at their website.
ABOUT IDENTITY THEFT IS FOR SALE.
This website is for sale [more info].
You might also like...