Don't Fall for Job Offer Scams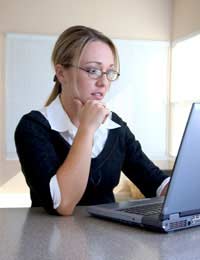 Everyone's heard of the working from home email scam, where people desperate to earn money in their spare time agree to stuff envelopes for cash. Later, they find they are charged more for the envelopes than they earn from stuffing them.
Now a new job offer email scam is making the rounds – only this time instead of losing money, you can lose your identity.
This type of identity theft email scam promises a lucrative part-time job for little work. It relies on unsuspecting people revealing their bank and other personal information before the job ever begins.
Again, if a job offer appears too good to be true, it probably is.
How it Works
You receive an email from a London-based company that purports to be recruiting for people who are based in the UK. "We are currently seeking 24 part or full time employees for our ever-growing Accounts Receivable Department," one recent email said.
"Through extensive demographic research, we have discovered a wealth of untapped human resources that, for one reason or another, need the freedom to work from home… If this sounds like you, please read on, and consider becoming part of our company family.
"The job will only take 1- 3 hours of your time every week" yet promises a "monthly salary of £1,500 which comes at the end of every month, plus other incentives and benefits that accrue, which includes tax holidays."
The email goes on, asking interested applicants to send their name, address, email address, telephone numbers and date of birth, and that successful applicants will be contacted in due course.
Of course everyone is accepted, and the next email, along with a hearty welcome and congratulations, asks for applicant's bank details. Remember, they already have all other pertinent information about their victims, so it's an easy trot from there to the bank, where you will later find that your account has been depleted.
Behind the Scenes
Many of these offers originate from overseas, although they use a UK-based email address to make it sound more legitimate. Faking a connection with the UK is often the best way to dupe people into believing a scam is genuine.
Some, such as the Hilton Hotel identity theft scam, tells its victims that a past employer has forwarded on their CV to them, and that they have been accepted for full-time work, to begin as soon as possible.
This scam says that a police clearance is necessary before the victim can start work, however, and asks them to send certified copies of their passport to their Human Resources Department for processing.
Sadly, the email does not origin from either the Hilton Hotel or any of its affiliates, but from a scammer who could be based outside the UK. And now the scammer not only has all your personal information and bank details, but also your passport details as well.
Spotting a Dodgy Offer
There are some obvious clues you can spot to ascertain whether an offer is dodgy or not. They include:
Few legitimate companies would offer a job by email to someone they have never met before. There is no shortage of people looking for work, in today's climate in particular, so why would anyone solicit employees via the Web?
Bad or broken English. Professional companies based in the UK would not send correspondence with loads of spelling mistakes or grammatical errors.
Most genuine companies based in the UK would not use of a Hotmail or yahoo email account, nor would their contact telephone number be a mobile telephone number.
Unsolicited job offers rarely exist, and most companies have rigorous recruitment policies in place to recruit the right people.
Few legitimate companies, if any, would recruit people over the Web, sight unseen. Fewer still would offer a fantastic salary for virtually no work, or make lavish promises to potential employees without ever having met them.
If you receive an unsolicited job offer via email, chances are that it is all part of an identity theft scam, and you are advised to delete the email message pronto.
If in doubt, remember that you can always check whether a UK-based company really exists through Companies House. If you do find the firm on their site, contact that firm directly to see whether their offer is genuine – before you release any personal details about yourself whatsoever.
You might also like...