Who is at Risk from Forgery?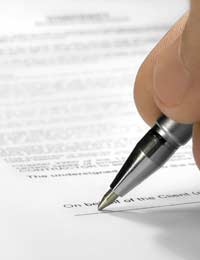 Something that many people have failed to take into consideration as still being active criminally is forgery. It is considered to be a criminal activity that is no longer of any great significance – overshadowed by computer crime and identity theft.
That said forgery is still a problem that can have far reaching implications especially if used in conjunction with identity theft.
Here we look at forgery and the steps that can be taken to ensure you don't become a victim of it of the so-called 'artist's crime'
What is Forgery?
Forgery was initially the art of copying or duplicating documents and signatures by hand in order to obtain money by deception, goods by deception or indeed to gain access to places that an individual might not have access to. Forgery has long been used as a means of producing fake passports and driver's licences as well as other important documentation such as wills and birth certificates.
Who is at risk of Forgery?
The simple answer is anyone who looses or has their documentation stolen. There are some documents that are difficult to copy using sophisticated computer techniques so therefore old fashioned methods such as hand forgery come into play. If you carry around important documentation you may find that if it is lost or stolen that it is liable to copying or forging for use in crimes involving identity theft.
Protecting my Identity
It is imperative that – where possible – one keeps control on their documentation to ensure that it does not fall into the wrong hands. With this in mind it is useful to try and observe the following simple rules:
Do not carry your passport unless traveling abroad
Do not carry your birth certificate
Keep your driver's licence in a wallet or purse
Make sure handbags and briefcases are closed securely
Never leave paperwork in a parked car for a lengthy period of time
Avoid sending originals of passports, birth certificates etc through the post
These may sound like rather basic rules but they are important ones and rules which make the job of obtaining documents to forge all that more difficult for the identity criminal.
Making It Difficult for the Forger
Ensure that all of your paperwork at home is kept in a safe place. This is preferably to be a small safe that can be kept in a cupboard or secure filing cabinet that is also fire proof.
If you have visitors to your home who are not regular visitors then ensure that all paperwork is kept safely away from prying eyes. Remember you may be employing a workman to carry out necessary repairs on your property but you are still not aware of their own circumstances so never leave money, jewellery or documents of a sensitive nature in plain view.
If you have a home office that such a visitor does not require access to keep it locked for the duration of their visit and likewise any postal correspondence should not be left easily to hand. It is all too easy for a visitor – especially a cold caller – to remove such correspondence without your knowledge.
Technological Advances against Forgery
One of the most common technological advances in the fight against forgery is the photocard driver's licence. If you are still in possession of the old style paper licence then it is recommended you upgrade to the photocard licence as soon as you can. These are much harder to forge in relation to their old paper counterparts and can be cancelled and reissued with more ease than the paper alternatives.
If you are in any doubt as to the safety of your documentation such as birth certificates, passports and driver's licences that you should contact the relevant bodies who have issued the documentation and ask as to what can be done to combat forgery and identity theft using them.
You might also like...