Teaching Children About Identity Theft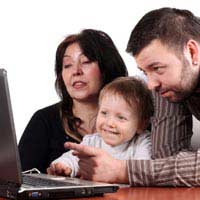 Identity theft is a growing crime both in this country and abroad, and often we contribute to its prevalence by unknowingly taking actions that make it easier for criminals to defraud us.
Children in particular need to be taught about keeping their identities safe, and what to do to keep their own personal details private. In fact, experts say that children are often prime targets for identity theft criminals, as their actions can go undetected for longer. Often, nobody realises that a child's identity has been stolen until they open their first bank account.
To make matters even more insidious, statistics show that the perpetrators of identity theft crimes against children are often people they know: a neighbour, friend or family member.
How it Happens
Identity theft against children is not that uncommon because it is a relatively easy fraud to perpetrate. All someone needs is an individual's name date of birth and address to open a bank account. While photo ID is needed – officially – often this is not asked for, as victims of identity theft will attest.
Sometimes fraudsters steal post to commit their crimes, such as when an individual received a pre-approved credit card in their name. Other times, they are able to gain access to important documents, such as passports, to allow them to carry off their scams.
Here are some recent cases of child identity theft:
In once case of identity theft against a child reported recently, a mum who went to open a savings account in her son's name was told he already had black marks against his credit report for writing a series of bad cheques. He was only two months old at the time.
In another case, a 16-year-old boy received a letter saying he owed thousands of pounds in back child support – to his 12-year-old son.
In yet another instance, a mother used information about her children to open five credit cards in their names. All of the kids were under age nine.
Protecting Your Child's Identity
Teaching your child about the need to safeguard their own personal information is vital when it comes to stopping identity theft in its tracks. Here are some steps you can take to help protect your child's identity:
Teach your child safety when it comes to using the Internet. That means not giving out personal information to anyone, even just a children's computer game site asking for their email address. Always insist they come to you before giving out any information whatsoever online.
Don't let your child buy anything off the Internet. You buy it for them, if necessary, as you will hopefully be able to recognise which sites are safe to use.
Teach your children never to share any other personal information with other people, including friends. That can mean PIN numbers and bank account information.
Small children in particular think it's fun to share computer passwords as well as passwords to online games etc. - but it's a slippery slope. Teach them to change them regularly, and to keep them to themselves.
If your child shows you that a pre-approved credit card or similar item has arrived in the post, don't just toss it. Find out why – follow it up. Teach them to be vigilant.
It's important to teach children about how not to become victims of identity theft, especially as the crime may go unnoticed for years. Your child may only discover the fraud when he or she goes to open a bank account, take out a student loan or buy a first car.
If you are in doubt about your child's credit, or notice any suspicious activity whatsoever, ask to do a credit reference check at once. Don't leave it up to chance, as the longer you wait the worse things can get and the longer it will take to sort it out.
Criminals often choose to target children – even babies – when it come to identity theft as they will have plenty of time to do untold damage to the child's credit before anyone notices. Don't wait until your child's credit is in trouble – do something about it now.
You might also like...