Use Your Credit Score to Stop Identity Theft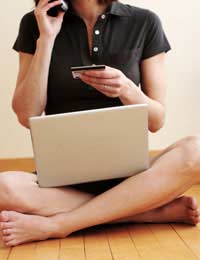 Have you or a partner ever been refused credit without being given a definitive reason why? If so this has been the result of a system used by the major banks and building societies of the United Kingdom called Credit Scoring. Credit scores can seem harsh, but they can also help in the fight against identity fraud.
What is Credit Scoring?
Credit Scoring is a process used by several Credit Reference Agencies in the United Kingdom to help provide an accurate picture of your spending and also your ability to pay back loans or to pay for goods received on hire purchase.
The credit score is designed to give any potential creditor the opportunity to decide for themselves - on the strength of collated information - as to whether or not you are a high or low risk debtor for a loan of any kind.
Credit Scoring uses a system where the potential debtor is marked on their ability to pay, the employment status, their living status and their current financial status. This information is collated from many different sources and also takes into consideration the frequency with which you apply for credit, all important for loans.
It is worth noting that applying for credit after having been refused credit can be marked down against you and this may dissuade any potential creditors.
What Your Personal Credit Score Means
This is the score that these Credit Reference Agencies will allocate to you when you apply for credit. Depending on the aforementioned status they will deduce a score which is reflective of your current financial status and also your ability to pay back any monies borrowed. It is also used to establish in legal terms if you owe a considerable amount of money and are trying to avoid repaying loans.
It is worth noting also that all of the Credit Reference Agencies in the United Kingdom are in constant contact with each other so being refused in one place does not constitute acceptance somewhere else.
Can I See a Copy of My Credit File?
Yes you can contact any of these Credit Reference Agencies and obtain a copy of your credit history for a nominal fee. This report is designed to show you where your outstanding debts are and will also offer you a list of ways in which you can improve your credit score. You can also see if any company or individual has issued a County Court Judgement (CCJ) against you. A County Court Judgement will be issued for non repayment of a debt and can be enforced using the services of a debt collecting company or independent bailiffs.
My Credit Score is Low - Is this a Good Thing?
The answer to this question is simply no. A low credit score means that you have difficulty in keeping up repayments, are currently in bad debt or have been placed into the hands of the Small Claims Court in an attempt to reclaim outstanding debts. The Credit Scoring system operates on scores ranging from between 300 and 850. A score of around 620 is the average, any lower than that and you should realistically look at making every attempt possible to improve your score.
Credit Scoring and Fraud
If you are not in debt and have not been in debt you can still obtain a copy of your credit history. This is a good way of finding out if anyone other than you has used your name in order to obtain credit or goods using your identity to perpetrate identity theft. Every application that is made using your name is listed and kept by Credit Reference Agencies and it is useful - even if you are doing well financially - to obtain a copy of your file in order to ensure that your identity is not being exploited by other individuals. If you believe your identity has been compromised you can ask the credit reference agency to place a fraud alert on your credit file.
You can find out more about Credit Scoring from the Citizens Advice Bureau or from any of the leading banks or building societies who will also be able to provide you with the names and contact details for the most widely used Credit Reference Agencies in the United Kingdom.
You might also like...
I have recently complained to the Royal Mail regarding lost post and they advised me my Ex Wife had redirected the Mail. I complained and yesterday got post, Included in this post were poll cards for persons registered to my address whom I have no idea of whom they are. I called the local authority and they advised someone had called 27.04.2017 to add themselves to the electoral register residing at my address. I have since called Action Fraud whom have given me a crime number and checked out my credit score. How do I find out what the purpose of the deception was and how do I find out what they have done as there is no credit address check anymore. If some one could advise I would be grateful.
Coventry Tone
- 17-May-17 @ 2:24 PM