Spotting a Website Goods Scam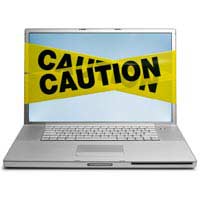 Imagine you have your heart set on a brand new pair of warm UGG boots for winter. Problem is, a genuine pair of UGG boots cost £160, and your budget just won't stretch that far.
Then you spot a website offering fantastic-looking UGGs for less than half the price – including free postage. In fact, the UGG boots on sale cost a mere £65, and they look – in the photo – exactly like the more costly pair you found in a name-brand shop.
You pay for the boots, then smugly sit back and wait for them to arrive. You wait a week, then two weeks. Nothing. Perturbed, you send an email. Silence. You try to phone the site, then realise no phone number is listed.
The boots never arrive. You've been scammed.
What is a Website Scam?
Website scams are becoming more and more prevalent, with the Office of Fair Trading warning that scammers are also becoming more and more sophisticated, with the "aim to con us all".
Whether it's a website offering non-existent tickets to sports events or one selling counterfeit goods, the goal is to get as much money as possible out of unsuspecting customers - and, in some cases, even steal their identities along the way.
Last year, a website that promised bargain-price designer goods, such as UGG boots and Diesel jeans, duped customers out of an estimated £1 million. It made the cash by not delivering promised goods and making unauthorised charges on victim's credit cards.
The website, FocusClothing.co.uk, made most of its money in the run-up to the holiday season last year. It opened in early December and closed later that month, banking money on pre-Christmas orders.
Interestingly, it gained much of its customer base by delivering leaflets door to door before the website opened for business.
Spotting a Fake Website
You can prevent this type of incident from happening to you by always being on the alert, and knowing what to look for when it comes to bogus sites.
Some things to keep an eye out for include:
Websites that don't provide phone numbers of other contact details, with the exception of an email address – which they may never answer to.
Sites that don't accept credit cards, asking instead for payment by Western Union or bank transfer.
The URL address looks funny. Sometimes bogus companies use names that look similar to the original, hoping that unsuspecting customers will not notice anything different – Tifany & Co, for example, instead of Tiffany & Co.
Does it look too good to be true? If everyone else is selling UGG boots at £150 and up, why would a company suddenly offer them at a mere £65?
Do the goods look a bit odd? Some sites sell counterfeit designer goods that are bad quality or just don't look right – although they claim they are genuine. Others brazenly sell "copies" of brand-name items, although they have no permission to do so.
One London-based mum, who declined to be named, bought her son a football kit online for £20 after noticing that the price was significantly cheaper than in the shops. "It looked like a great deal so I bought him a Chelsea kit as he had just joined an after-school football club," she said.
"But after about a week, I contacted the site because the kit never showed up. They emailed me back, telling me to be patient. I wanted to speak to someone, but there was no phone number listed.
"Two years down the road, I am still waiting for that football kit – and since then I have paid about £60 to get my son a legitimate one. It taught me a lesson about bargain-hunting – that super cheap bargains don't really exist."
If You're a Victim
Consumer Direct, the main government authority dealing with customer fraud, warns consumers to always be on guard. It says that if an offer seems suspicious to either "bin it, delete it or hang up", depending on the nature of the scam.
Most importantly, never reveal your banking or personal details – including computer passwords – to anyone or anything in which you do not have complete trust.
And if you have been the victim of a website scam, contact Consumer Direct immediately and make a report. Even if you don't think it's worth your while, it might prevent others from experiencing the same fate.
You might also like...
@Squiffy - while many organisations try their best to safeguard your information, much of it is also up to you. Here is a more in depth link from the Information Commissioner's Office (ICO) which is the UK's independent authority set to uphold information rights in the public interest, promoting openess by public bodies and data privacy for individuals.
link here
.
AboutIdentityTheft
- 21-Nov-14 @ 2:03 PM
what safegaurds for the victim are there if someone uses your n i number after all in our lifetime many agencies are privy to it so there must be safegaurds in place but no one ever mentions thatthings like this worry people greatly especially as people can intercept mail very easilyi have only ever given my number to payroll andgovernment officials when required to do so the chances for me are slim but inever say never and do worry that there may be no safegaurds in place to protect you
squiffy
- 21-Nov-14 @ 10:46 AM