Firewalls and Anti-Virus Protection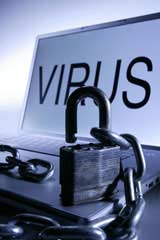 These days when you purchase a computer - be it a desktop model or a laptop - it will come already pre-installed with anti-virus software which is designed to reduce the risk of your machine installing a virus whilst you surf the internet.
Firewalls and firewall software are also becoming much more popular than ever as a result of the need to dissuade hackers and other individuals from gaining access to information of a sensitive nature which so many people store on their computers.
What is a Firewall?
A firewall is a piece of hardware - normally built into a router or modem - or software installed on a computer to prevent unauthorised access being granted to that computer.
In essence a firewall acts like a security guard standing at a doorway, with the right permission it will allow access to only those individuals to whom the correct access has been granted.
A firewall can be configured to allow only certain types of access to a computer and indeed only certain programs to send information back out again such as email applications and anti-virus software that requires updates.
All other programs must be accepted by the user in order to facilitate the correct level of incoming and outgoing internet traffic.
What is an Anti-Virus Program?
Anti-virus is - as the name suggests - the opposite to a virus. It is designed to identify, block and where necessary delete viruses which are attached to emails, programs accepting access to and from the internet and through any other means a virus has of getting onto your system.
When an anti-virus program is first installed onto your computer it will scan the hard drive and any other drives such as external hard drives or optical discs. This is done to ensure that the program has an understanding of the drives attached to the computer and also to identify any viruses that may have already been introduced to the computer.
Where do Viruses Come From?
Computer viruses are man-made; designed and written by hackers or indeed simply by individuals demonstrating a willingness to cause mischief and distress to other computer users. These viruses are normally small programs or lines of code which are designed to upset the operation of a computer system or indeed to destroy data.
Viruses are often created by disgruntled individuals who seek to exact some kind of revenge against people who have - for whatever reason - upset them.
How do I tell if my Computer has a Virus?
Normally - if you installed an anti-virus program and its database is up to date - you won't have to. The software will detect if for you and will offer you a list of choices as to what is the best course of action. If a virus has attached itself to a non-essential file then the software will offer the opportunity to clean the file if it can. If the virus is such that keeping it on your hard drive could cause further complications then the software will recommend quarantine and subsequent deletion.
You should run your anti-virus program's scan facility at least once a week and back-up all essential files and folders at the same time. Back up your data after the anti-virus has confirmed there are no threats so that you are not simply saving the virus to another location.
Maintain your hard drive's integrity by deleting non essential files or saving them to DVD or CD-ROM and ensure - where possible - that if others are using the same computer that the internet sites they are looking at are trusted and not likely to download viruses to your system.
You might also like...