Should We Report Our Stolen Birth Certificates?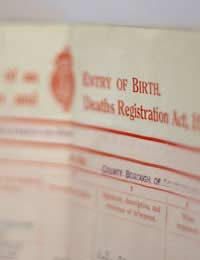 Q.
Our families birth certificates have been stolen form our family home, should I report this to anyone and if so who?
(G.M, 23 June 2009)

A.
I am sorry that you have had such an unpleasant experience. Presumably this was part of a burglary or theft of other items from your home, unless the thieves specifically targeted your birth certificates. In either case you would be well advised to report the theft to your local police station and to get a crime report number. Hopefully the theft may go no further and the thieves will not be interested in your personal documents.
However, unfortunately, as you are probably aware, this loss may make you and your family vulnerable to the possibility of identity theft. This is where unscrupulous individuals use your personal information to obtain illegal financial services by fraud. This is especially a risk for you if these are the only items which have been stolen from you. It is increasingly the case that thieves are targeting this kind of information. It is important that you are proactive and take steps to ensure that the relevant authorities are aware of the possibility that your identity has been stolen.
In addition to notifying the police you should contact the General Register Office to obtain new copies of your certificates and to ask them to make a note of the fact that original certificates have been stolen. In order to protect yourself you should also consider notifying your bank and any credit card companies so that they are alerted in the event that any unusual activity starts to appear on your accounts. Although hopefully the risks for you are minimal in order to find peace of mind you may also want to report the theft to one or more of the three key credit reference agencies in the UK. These are Experian, Equifax or Callcredit.
You can also undertake a credit check with one of the agencies in order to see whether there is any unusual activity taking place under your name. As you have had several birth certificates stolen for ultimate peace of mind you may want to undertake a search for each member of your household. Some of the agencies offer subscription services so that you can monitor your credit rating on an ongoing basis. This may seem expensive or an overreaction, it depends on your personal point of view and attitude to risk. However it is certainly worth knowing that this option is open to you.
If you take these steps to inform the relevant authorities then your proactive approach should preempt the actions of identity thieves. At the very least, if the worse should happen the authorities will be quick to realise your innocence and to act to block any unauthorized activity. I wish you every success with this and in defying the thieves. Good luck.
You might also like...
I sent my original of my adoption papers to student finance, but I only received photocopys of 3 of the 6 papers. I spoke to the student finance office, and they were very insistent that they sent back EXACTLY what I sent them! So this now leaves me with half of my adoption papers, and the worrie of thinking has someone photocopied my adoption papers!! I don't know what to do now! Please help me.
Jezkaw
- 9-May-12 @ 3:59 PM
if someone has lost stolen your brith certicate what should you do
nipples
- 5-Apr-12 @ 5:17 PM