Your Consumer Rights Online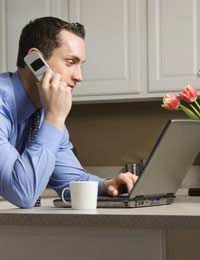 Many of us will now have experienced the freedom and relaxed nature in which we can purchase goods or services via the Internet. It is fast becoming one of the easiest and most popular ways in which to make purchases but there are still things to be weary of.
Buying Online
If you are buying online for the first time then you should consider the following:
How long has the company been trading?
Do they have a high street outlet?
Do they have a returns and cancellations policy?
Are you goods protected whilst in transit?
How safe are your details?
All of these are important questions to answer before you begin trading with anyone online. As well as there being many thousands of reputable companies selling their products and services over the Internet there are more unscrupulous individuals who will try to defraud you or sell you less than perfect goods in the hope that because these sales are so-called 'distanced sales' that you will simply not bother to try and retrieve your money or replacement goods.
How a Company Should Deal with Orders Online
When you visit the website of a company from whom you wish to make a purchase the first thing you should do is look for their terms and conditions. Obviously the terms and conditions are sometimes the last thing you want to read when enjoying the idea of making a purchase but it is important to know where you stand and what measures the company has in place to protect themselves.
In the terms and conditions you should be able to find out exactly what the nature of the company's returns policy is. Do they have a cooling off period? How do they provide refunds? All of this should be contained in their terms and conditions.
If you do wish to place an order it is wise to print off the terms and conditions and keep them along with a copy of your order invoice just in case there are any problems later on. It is useful to have these terms and conditions just in case the company dispute your claim for a refund.
Delivery Times
A company should deliver an item to you within a set period of time, which is normally listed when you place your order. If the item is in stock then they will inform you as to the date you can reasonably expect delivery – referred to as 'estimated delivery date' and also the date the item will be dispatched – referred to as the 'estimated dispatch date'.
If the item is not in stock then the company should tell you immediately as to when they reasonably can expect to take delivery of stock or if the item is coming directly from the manufacturer. At this point you have the right to cancel an order if the delivery date is not as specified or if it exceeds your reasonable expectations.
Refunds
If you require a refund then you should make this fact known as soon as possible. Most companies offer a cooling off period which is usually around seven days, thus giving you the opportunity to receive the goods in question and – if they are not to your satisfaction – return them for a full refund.
If you are returning goods that are not satisfactory then it is worth registering them so that you have proof of delivery at the other end.
As most purchases are made online using credit or debit cards it is the case that refunds will be made back to the credit or debit card from where the money originated. If you have had someone place an order for you and then you have given them the money, the refund will go back onto their card and you should seek to have your money returned from them and not the company.
Clearance Items
Many of us like a bargain and many of the large high street outlets have clearance sections on their websites. Just because an item is classified as a clearance – or 'end of line' item – that does not mean you have fewer rights. If you purchase a clearance item and it is not fit for purpose then you can ask for a full refund or replace item should you so wish.
Your Information
All information processed on a website for purposes of making a purchase is subject to the same conditions as those written out in a store. This information is protected and governed by the Data Protection Act and should not be passed on to any other party unless your express permission has been sought.
For further information you should contact your local Trading Standards office or alternatively contact the company from which you wish to make a purchase and ask them for information on their goods and returns policies.
You might also like...