Protecting Your Mobile Phone From Identity Theft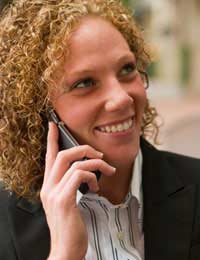 A large percentage of the population in the United Kingdom currently own and operate a mobile phone be it on a contract or pay as you use basis. These mobile phones varying both in cost and also in technology are used not only to make calls but also to send and receive emails, surf the Internet and to keep important data alongside photographs and video clips on sophisticated handsets. We see them as a convenience, but they're susceptible to all kinds of fraud, even identity theft.
What Are Contract Mobile Phones?
The market is now saturated with companies offering us the best deal on our mobile phone bills including free handsets, text and talk options and other gimmicks such as MP3 players and video game consoles free if we sign up to such contracts. The average contract can now have a length of eighteen months as opposed to the once popular twelve months. With this in mind it certainly pays to shop around before you commit yourself to a contract of such longevity.
It should be pointed out however that one of the main reasons for this extension in contract time is because of the increasing amount of mobile phone fraud that is taking place in the United Kingdom.
How Handset Unlocking Can Cause Fraud
One of the most common aspects of mobile phone fraud is handset unlocking. Although strictly speaking it is not illegal to have your handset unlocked - especially after your contract has finished - it is illegal if the mobile phone has been obtained alongside a contract specifically for that purpose in mind.
Organised gangs will use identity theft to initiate new mobile telephone contracts without the identity theft victim even knowing it and they only find out when the huge bills begin to mount up.
Likewise once the contract has been entered into then these gangs have the telephones unlocked, remove the SIM cards and then sell them on to unsuspecting buyers either online or on market stalls. This turns the identity theft into ready cash which can be used for other purposes such as buying and selling drugs.
What Contract Mobile Phone Fraud Means
As we have mentioned gangs perpetrate identity theft and use them to falsely obtain mobile phone contracts. These contracts are used for as long as possible before the mobile telephone companies realise that no bill is going to be paid and disconnect the lines. During this time the handsets are used to make calls which are related to criminal activities and also for scams involving the selling of stolen goods in newspapers and online auctions.
To this end all mobile phone companies now operate a default credit limit which - when reached - automatically prevents the caller from making any further calls until the bill is paid.
It is normally at this point when the handsets are unlocked and sold on for cash leaving the identity theft victim to sort out how bills are paid and credit blacklisting can be avoided.
Protecting Your Mobile Phone From Fraud
If you have a mobile phone do not leave it lying around especially in pubs, clubs or places where there are a high volume of people moving around and it can be stolen. Also if you must send and receive emails via your handset make sure that these emails do not contain sensitive information relating to bank and building society accounts, making them prime for identity theft.
Also if you must surf the Internet do so in the comfort and relative safety of your own home: most handsets now feature Wi-Fi technology and used in so-called 'hot spots' your telephone can be hacked into by anyone with a laptop or Wi-Fi enabled mobile phone thus being able to extract important information from it and gaining access to your emails - which again can lead to identify theft.
It is also worth noting that mobile telephone technology is becoming more inexpensive as months pass so you do not necessarily have to pay the earth to have a decent mobile phone. It is worth making sure your handset is covered by your Home Insurance policy. Many telephone providers stipulate that you must take their insurance but this is not always the case as most Home Insurance policies now cover mobile telephones as standard.
You might also like...