Security Risks of Peer to Peer File Sharing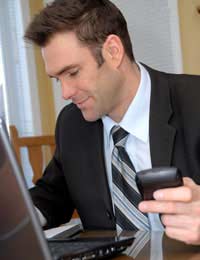 The internet has not only become a place to share information and make online purchases; it has become a place where music, movies and software downloads are possible using Peer to Peer file sharing. But it's a system can end up in identity theft.
What Is Peer To Peer File Sharing?
Peer to Peer file sharing - or P2P as it is known on the internet - is the ability to share music, movies and software between computers using the internet as a link. This sharing is carried out using specially written software which allows the user to save their downloads in specific folders and also to share files they have with other users online.
A good example of peer to peer file sharing would be to download an album by a specific artist on a P2P network - this album may be available among fifty people and the peer to peer software takes a small piece of the album from each individual's computer in order to make up the whole whilst not bringing their internet connection to a stand still.
For the most part peer to peer sharing is illegal simply because it infringes copyright laws so if you are using peer to peer software you should be aware that you are breaking the law.
In addition to this because it is illegal there are no guidelines governing its definitive use and therefore there are no means of protection in place for your data should it be lost, stolen or corrupted online - spyware is common and it's an excellent avenue for obtaining personal details from someone's computer and committing identity theft.
Identity Theft Through Peer To Peer File Sharing
As we have already mentioned peer to peer sharing is for the most part illegal. There are some legalised P2P sites but they are few and require a subscription in order to fund the copyrights used by the artists they share music from.
With this in mind many people use peer to peer sharing and in the last few years it has become an area through which many have lost personal data and indeed been subject to identity theft, and some users also have found their computers under attack by viruses and spyware.
Peer to peer file sharing opens 'ports' in your computer - these ports are channels which allow the flow of data in and out of your computer from and to the internet. Whilst some of these channels we know are open for this purpose sometimes the P2P software can open others which we are unaware of. The result being that individuals whose motivation is that of a criminal nature can extract delicate information from your pc without you actually knowing.
Certain files when downloaded from peer to peer file sharers have Spyware attached to them and when they are opened the Spyware is installed and it can set about sifting through personal folders in order to extract and resend information to other users - which can bring about the identity theft.
This can be considered as a kind of hacking but because the downloading of copyrighted material through peer to peer file sharing is for the most part illegal many individuals who have been the victim of it do not report it to the authorities for fear of prosecution themselves. It is this that the criminal element thrive on.
Protecting Yourself From Identity Theft Whilst Using Peer-to-Peer File Sharing
As with the use of all software that is connected to the internet it is important to have a reliably pop-up blocker, anti-virus software and Spyware software installed. Also a reliable firewall is an advantage. Many wireless internet routers now have their own firewalls built in as standard but the addition of a software-based firewall is no bad thing.
If you must download from the internet make sure you do it legally and from a reputable site, not via P2P file sharing. There are a few to choose from and although some of them have limited content over time they add new content to their catalogues.
If you have been using peer to peer software and no longer wish to you must uninstall it. Leaving it on your computer unused does not necessarily mean it is not accessing the internet, and peer to peer file sharing could continue without you even realising it - you could also be losing personal details that contribute to identity theft.
Likewise if you are using a family computer with separate log-ins it is wise to check especially if there are children using it, to see what software they are using and what they are downloading as well as uploading.
You might also like...