Spyware: Downloaded Programs or Viruses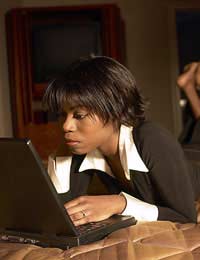 Spyware are small programs or viruses that can be downloaded without your knowledge and stored on your computer's hard drive for use in the collection of data.
This data of course does not necessarily have to be personal data, it can simply be data about the kind of software you use and the internet sites you visit, but the capacity is there for these programs to open up 'ports' and release information to others without your knowledge.
What is a Port?
A Port is best described as a channel - rather like that on a television - down which information is sent and received from your personal computer or laptop. Using these ports some programs check for updates or plug-ins whilst other ports send information out on specific dates at specific times in relation to updates required by your computer to function correctly.
The purpose of firewalls and anti-virus software is to block these ports and only make them available to programs which you choose to allow access to and from your computer. These ports - if unchecked - can allow the streaming of information to and from your machine which may be detrimental to the machine's operation or indeed may be detrimental to your identity if you store lots of personal information on it.
Pop Ups
Pop-ups are those advertisements which appear when you are surfing the internet. Often they open up separate windows and can be difficult to remove, closing them simply opens up another window and the cycle continues. In some cases the only way to get rid of them is to restart your computer. However whilst these adverts are annoying to you they may be assisting hackers gain access to your machine. They sometimes contain Spyware which then seeks out information - specific information - kept in specific folders on your hard drive.
Authorised Spyware
There is such a thing and it is utilised by the larger companies that may send information to you or request information from you. If you regularly download updates or revisions to software then you may find that Spyware is already built in to them and they can pass back information that is useful in the production of demographic statistics.
Protecting Your Computer from Spyware
It is difficult to find a way to completely eradicate Spyware but it can be drastically reduced. There are many different applications available on the market presently which look for Spyware programs and files on your pc or laptop and quarantine them. Anti-virus software is also equipped for the task and you will find that your anti-virus software will ask you every few days or so to update its database of Spyware and viruses so it can continue to accurately identify any problems which may arise.
Be aware when you are visiting websites outside those normally visited. If you have software installed on your computer that allows for the checking of Spyware then run it once you have finished. Again if this software is running in the background on your computer it will spot and inform you of any risk of Spyware it encounters.
You should also note that if there instances of Spyware found on your computer it is wise to remove them and then restart the computer to ensure they have been removed. Do not send emails out to others until you have done this as Spyware is often memory-resident meaning that it may be have been quarantined for deletion but it remains active in the computer's RAM (Random Access Memory) until the machine has been restarted.
If you are having difficulties removing Spyware there are several of the large high street retailers who offer services that include the remove of Spyware and viruses and also the safeguarding of your hard drive.
It is recommended however that you speculate the money to purchase some Spyware software and always have it along with a firewall and anti-virus software running on your machine in order to minimise the risk of Spyware attack.
You might also like...