Identity Theft as a Crime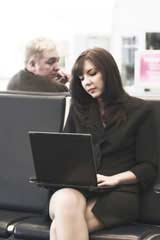 Identity theft is fast becoming something that many of us take as a great concern and likewise is a crime that is becoming more widespread in our society.
The crime itself has become more popular in recent times especially with organised gangs from abroad who operate within the confines of the United Kingdom, sometimes with members who are themselves illegal immigrants and therefore not registered as being present in the country.
What Constitutes Identity Theft?
Identity theft is the theft of an individual's details and their subsequence use in order to obtain money or goods by means of deception. An identity thief is an individual who will attempt to pass themselves off as you in the eyes of banking institutions or with companies who can provide money lending facilities or Hire Purchase.
Who is Affected by Identity Theft?
Anyone who is over the age of sixteen can be affected by the crime of Identity Theft. If you are old enough to seek and gain credit or to have a bank account then you are likely to be a target of identity thieves. An identity thief's primary objective is to use your identity – your name, your date of birth and other relevant information – in order to obtain money or goods by deception and preferably without your knowledge.
What Can I Do to Protect Myself from Identity Theft?
In recent years the British government in conjunction with banking institutions and consumer organisations have laid down a series of guidelines which anyone concerned with the crime of Identity Theft should try – where possible – to adhere to.
These guidelines are designed to minimise the risks of Identity Theft although it should be noted that as each new measure is introduced the combat the problem, those responsible for it are coming up with new and more elaborate ways of carrying it out.
Look after Your Details
This may sound rather simplistic but it is the single most important thing anyone concerned with Identity Theft should do. The general consensus among government and law enforcement agencies is that you should:
Keep all documents purporting to bank accounts in a safe place
Regularly check your bank and building society accounts
Do not carry any more documentation with you then you need
Keep all passwords and security information to yourself
Destroy all non-essential mail correctly
Never divulge information of a personal nature to anyone you are unsure of
Do not answer unsolicited mail or electronic mail requesting personal information
Beware of Cold Callers
The government has changed the legislation relating to so-called 'Cold Calling'. 'Cold Calling' is the practice carried out by many businesses and charitable organisations in an effort to gain new business or sponsorship from members of the public.
If anyone knocks on your door asking for information that you consider to be private you should refuse them and inform your nearest police station – especially if the individual in question is reluctant to identify themselves.
Anyone contacting you by telephone or electronic mail should only do so if you have requested they do so specifically. Any instances of such unsolicited communications should be logged.
Computers and Identity Theft
If you use your computer to carry out business or household transactions then you should ensure at all times the computer being used is properly installed with anti-virus software, Spyware software and a hardware or software-based firewall.
Do not under any circumstances open electronic mail with attachments unless you recognise the sender's address and likewise do not download content from Internet sites that you are unfamiliar with.
For more information of what constitutes Identity Theft and how to combat it you can contact your local community police officer or council office.
You might also like...