Types of Identity Theft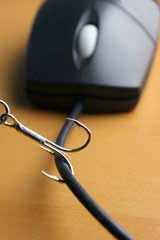 You may easily wonder why someone would want to steal your identity, and most people think the answer lies in illegal financial activity. That is usually the reason behind this rapidly spreading crime, but not always.
Identity theft is a crime with tentacles that reach out to squeeze many aspects of our lives. It is a criminal offence, but the goal is not always for financial gain. Fraudsters who steal people's identities do it for other reasons as well, such as to facilitate illegal immigration and even to instigate terrorism, or cover up terrorist activities.
Other reasons people commit the crime of identity theft include to have the right to work with children, to commit bigamy, to cover up a poor financial background and to drive despite being disqualified.
Despite this, it is estimated that almost 80 per cent of all Britons are careless with personal details that a fraudster could have a heyday with.
That includes 19 million households binning sensitive information regularly, and one-third of us throwing away important documents such as driving licences and passports, as well as utility bills.
Types of Identity Theft
Here are just some common types of identity theft, although the actual list is a lot longer…
Financial Identity Theft. Most cases involve a fraudster gaining access to an individual's personal information, then opening up a credit card or taking out a loan in their name. The victim is left with a devastated credit rating, which may take years to fix.
Blackmail Identity Theft. Fraudsters take advantage of people using online bankruptcy petitions, threatening to make them bankrupt unless they pay out money – in effect, a ransom.
Cloning (credit cards) Identity Theft. A fraudster gains access to your credit details, perhaps by hacking away at your computer to find out your passwords and banking details. He then clones your credit card and makes purchases in your name. Don't let Google remember passwords for you, or have them stored/saved in your computer.
Illegal Immigration Identity Theft. Potential immigrants, or go-betweens making money off people who want to immigrate to the UK, steal people's passport details and National Insurance numbers.
Terrorism Identity Theft. Terrorists resort to money laundering in other people's names in order to fund terrorist activities. In a recent case, a young female student was accused of planting a terrorist bomb; it turned out her identity had been used to conceal the identity of the true perpetrator of the crime.
Corporate Espionage Identity Theft. Fraudsters scour rubbish bins to find sensitive information thrown out by companies which they can use to commercial gain.
More and More Prevalent
Identity theft is becoming commonplace the world over, although each country has its own unique types of fraud. In the United States, for example, medical insurance identity theft is common, as is Social Security and driving licence identity theft.
While financial identity theft is no doubt the most common kind, any crime of this kind can have devastating effects on an individual. Protect yourself by knowing how to keep important information about yourself secret.
Your personal details are valuable, and when they fall into the wrong hands, untold damage can occur. Using credit cards wisely and not sharing your PIN numbers, taking care with your post and protecting your computer are all ways we can keep sensitive information safe - and stop identity theft in its tracks.
You might also like...