Prosecuting Identity Fraud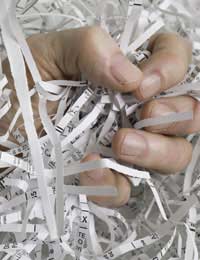 Many of those who fall victim to Identity Fraud do so with the realisation that not only has someone used their personal information to obtain money or goods by deception but that – in a large percentage of cases – the perpetrators of such crimes will go uncaught.
Here we look at what can happen to those who are caught and what are the outcomes for the victims of such crime.
Catching the Identity Thief
This is one of the hardest jobs the police and other law enforcement agencies have when it comes to identity fraud. For the most part identity fraud is considered to be 'distanced crime'; in other words the perpetrator of the crime has committed at some way away and the chances of catching up with them are slim unless information is received or they are caught in the act.
As most identity theft-related crimes are committed using the personal details of the victim they can be carried out in other counties, regions or even in other countries.
Pursuing these crimes involves a great of co-ordination and resources between many different police forces and law enforcement agencies.
Police Fraud Squads and Serious Crime Units work in conjunction with each other and share information especially if it appears that an individual or group of identity fraudsters are moving from area to area.
Prosecuting the Fraudsters
Again this is something that is possible but is difficult simply because the thieves need to be apprehended by the police before they can be prosecuted. As the thieves become more inventive and the technology they use becomes more accessible so it becomes harder to track them down.
If an individual has been charged with identity theft then he or she may be given bail until such times as their trial is heard. However if there is a risk of absconding then the magistrate may decide that the individual in question should remain in custody until their trial date.
You may be required to give evidence at this trial if the information the defendant has been using was obtained by you in person i.e.: if they visited you at home or gathered such information in a public location. You may be required to make a positive identification which may go some way to strengthening the case against them. However it is unfortunately the case – as we have already mentioned – that you may have never had any dealings with the individual and that they obtained your details through other means.
It should be pointed out that if you have lost money or have had goods obtained in your name by such an individual then you should prepare yourself for the fact that such money is long gone. Your credit card company or bank may reimburse such money if you have adequate protection in place with them but the sad reality is that any monies removed from your bank account by such individuals may never be recovered.
In a great number of these cases such money has been spent or used to finance other crimes within a few days of its initial theft and the recovery of such money is highly unlikely.
Protecting Your Identity
If you suspect that you or any member of your family are the victims of identity fraud you should contact the police immediately and also contact any banks or building societies you may hold accounts with.
One of the main ways in which to beat the identity thief is diligence and also a secure hold on your personal information.
For further information you should contact your local Crime Prevention Officer who will be able to offer help and advice as to how best to protect your identity at home, at work and abroad.
You might also like...