Wireless Internet Surfing and the Risks of Identity theft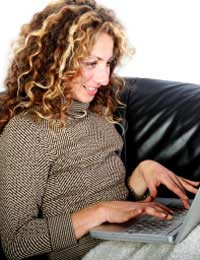 One of the most popular and common pieces of technology around today is that of wireless Internet. This technology makes it possible for anyone in business or any home user to access the Internet from anywhere in their office or home and to do so with ease using a wireless network for the computers in their home or office.
However the down side to this is that if it is not properly encrypted other users can gain access through the wireless network and could steal your personal details.
What is Wireless Internet?
As the name suggests wireless Internet is access to the Internet that does not require you to be situated near the modem through which the Internet is pumped into your home. With a wired connection you must have your modem attached to a PC or laptop but using the wireless technology found on most laptops and PCs you can access the Internet from any room in your house or garden or in your office using a central router to create your own local area network.
One of the greatest advantages of this new technology is the financial savings to be made from no longer having to have wired networks installed in offices and homes.
How Does Wireless Internet Work?
Most people will have heard of Broadband technology which allows users to experience much faster downloading and surfing speeds. In addition to this most broadband routers - or modems - have the ability to send out what is known as a Wi-Fi signal.
This signal is then beamed around a certain radius and is picked up by receivers already built into laptops or connected to PCs via USB ports. These receivers then translate the signal back into a language the computer can understand thus displaying Internet pages through Internet explorers.
How is my Wireless Internet Protected And Does It Affect Computer Security?
Most wireless modems and routers now come complete with what is known as a firewall. This firewall - which is built into the router or modem - acts as a block for any activity which is deemed unacceptable, namely hackers. In other words if anyone attempts to gain access to your machine the firewall will deny it. However this firewall must be activated and assigned a WPA or WEP key. This so-called network key is then entered into any computer wishing to access the wireless network to create computer security and help stop identity theft.
What Other Precautions Should I Take To Stop Identity Theft?
When downloading from the Internet - which many people do these days - it is important to know what you are downloading and likewise protect your computer against any viruses that may be attached to it, which might jeopardise computer security. This is true of both wired and wireless networks
With this in mind you should make sure that any computer attached to your wireless network has up-to-date anti-virus and Spyware software installed. Also you should take special care when downloading from sites which your Internet Explorer deems as not trusted.
Always ensure that any personal information you require on your computer is password protected and ensure at all times that your network key is activated.
Identity theft can occur when a hacker scours an area with a wirelessly enabled laptop and identifies any wireless networks in homes or offices which are not protected by such a key and can access them from a safe distance. It is often very difficult to identify that such an intrusion is taking place so it is absolutely imperative that you take all steps necessary to reduce the risk of such an event occurring on your computer.
In addition never give out the network password to anyone unfamiliar to you and make sure that all passwords and encryptions are activated on all computers attached to your wireless network.
You might also like...