How to Avoid Online Fraud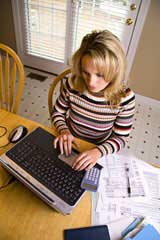 As retailing and the purchasing of goods and services moves on technologically so it moves from the high street and onto the Information Super Highway. The freedom to buy online allows us to buy from specialist shops and merchants in places far removed from our own towns and cities and gives us the opportunity to purchase those things we have always wanted but have found it difficult to locate in and around the area in which we live.
With this in mind so too has the fraudster and the confidence trickster moved on and now they also find it easier to ply their trade on the Internet; making it all the more important for us as consumers to be careful when buying online and ensuring that we have the same rights and avenues of recourse that we would have whilst buying on the high street.
Buying from an E-Shop
An E-shop - or online store - is one of the many ways in which we can now purchase goods and services over the Internet. Of course this is not without its perils, the main one being that the items we purchase actually do not exist and our money may be lost forever if we do not safeguard ourselves where possible.
It is important to remember that nowadays almost anyone can build and host a website and therefore there are a lot of websites on the Internet offering things that may sound too good to be true. For the most part it is best to remember the old adage - if it sounds too good to be true then it is too good to be true!
Exercise caution especially if you are buying from a site for the first time. There will be a lot of small print to read through but it is important to read through it. Also where possible try to obtain other means of communicating with the company in question. Look for a 'Contact Us' page which should include telephone numbers and a list of email addresses. Initially before you make a purchase try contacting the company by telephone rather than email. This is a good way to judge whether or not the company is what it says it is.
How to Avoid Online Fraud
First of all you should never enter into any sale on the basis of an email you have received: especially if it is an email that has arrived in your inbox as unsolicited mail. If you receive such emails and they are placed in your junk mail folder it is best to leave them there. However feel free to check out the corresponding website.
You can do this without opening any unsolicited mail. If the address ends in the words @joebloggs.com or @joebloggs.co.uk simply substitute the @ symbol for www and this should open up the corresponding website.
Alternatively use one of the many search engines to try and find the company in question. If they are in the United Kingdom you can carry out a free search at www.companieshouse.gov.uk - here you will be able to find out how long the company in question has been trading, how many times they have filed accounts and also how many times they have changed their name. It is worth remembering that if a company has had multiple name changes then it is likely that they have suffered financial hardship and have ceased to trade under one name and opened up under another. You should avoid companies displaying these traits at all costs.
Go on the recommendation of friends and family. If you are looking to make a specific purchase then ask friends and family what sites they use when buying online. They will give you honest advice on how they have found their experience and what works and what doesn't. This is sometimes the best advertising a company can have and the recommendations of any existing customers are worth much more than glossy advertisements on television and in magazines.
If you want to make a specific purchase such as an item which is collectible or highly specialised visit your local newsagent or library. Here you find magazines dealing with specialist subjects and equipment that will have reviews and exposés on websites and companies who offer good deals and safe trading or who have been difficult to deal with.
Most importantly when you are doing business with any company or website never pass your credit, debit card or bank details via email. Any company or website worthy of their reputation will never ask you to carry out this practice.
You might also like...
@Hettpole - E-mailing payslips without a password is insecure, although if you have an individual password on your computer it is less likely that anyone else will be able to view it, unless they had access to your password.To use secure email software must be installed on both the computer sending and the computer receiving the email, so it might be that your company doesn't currently have this option. However, it doesn't sound like a sensible option if you don't have a password on your computer and is not even an attachment. So yes,if you are concerned I suggest you speak to your employer and request a printed payslip or another way of accessing it.
AboutIdentityTheft
- 26-Jan-15 @ 1:02 PM
I have recently started receiving my payslip by email. The payslip details including my name, ni number, bank details etc are displayed on the face of the email. It is not an attachment nor does it require a password to see the details. I am concerned that there is a degree of risk with this method, that I have little control over, except by securing my email. I can see that other companies send payslips using a password or encrypt them. My company are not interested in doing this. Am I right to be concerned, or just making something out of nothing?
Hettpole
- 24-Jan-15 @ 7:47 AM