Buying Goods Online and Identity Theft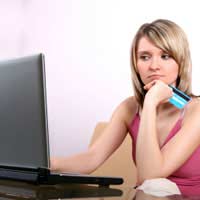 The Internet has provided us with an alternative means of buying goods and services and as a result many of us now spend a considerable amount of our time and money on the Internet using websites which offer goods and services at prices which are not obtainable on the high street.
With this in mind it is important to have an understanding into the ways and means in which an individual or group can access our personal details whilst using - or after we have used - such sites and bring about identity theft.
Likewise it is important to acknowledge that the majority of retailing institutions operating on the Internet do so using the highest levels of computer security in order to preserve the integrity of our personal information and ensure we're not identify theft victims.
Giving Out Your Credit Card Details Online and Avoiding Identity Theft
Your credit card contains not only information about your credit card account but also information about you as an individual. It may contain information relating to your name, address and date of birth which in the hands of an identity fraudster are gold dust. With this in mind it is important to utilise the services of a website that offers guarantees against identity theft. However, you should always make sure your computer is clean of viruses and spyware to avoid the possibility of the trojan virus stealing your personal details.
Computer Security and Processing Your Details Online
Most sites now offer a secure processing area for details relating to your name, address and credit or debit card details. These sites are encrypted in what is known as 128-bit encryption - an industry standard. When imputting your personal deatails make sure the web page has a padlock symbol on it somewhere - this indictates that it is a secure page.
128-bit encryption is designed to ensure that it is as difficult as possible for anyone trying to read your details to do so, increasing computer security.
You will receive an email from your designated site to inform you of the status of your order. If you do not receive such an email then it is best to try and contact the company by telephone if possible. Failure to be able to do so means that something is not perhaps as it should be. At this point making contact with your bank or building is perhaps a wise decision. You should inform your bank or building society of the details of the company you have placed your order with and have them monitor your account for transactions relating to that company.
It is important also never to share your credit or debit card details with anyone. This greatly reduces the risk of individuals around you fraudulently making purchases with your card.
Many companies now only make deliveries of purchased items to the address of the card's owner and this is designed to reduce the risk of fraud and also to make the card's owner aware of any possible impropriety and identify theft.
Computer Security When Using Other People's Computers
You may find that from time to time you might need to purchase something online but from another computer. If this is the case then you should first ensure that they have all the relevant anti-virus and Spyware software installed before doing so to avoid the possibility of a trojan on the computer than could lead to identity theft. Also ensure that all emails regarding the confirmation of purchase are sent to your own email address. This reduces the risk of anyone else coming into contact with your personal details.
Customer Feedback
Many of the online sites that offer retailing capabilities also offer the opportunity for previous buyers to rate and comment on the nature of their purchases so that new customers can get a handle on how things operate.
It is a good idea - where possible - to read up on this feedback and identify areas of possible contention rather than simply go ahead and make your purchases.
You might also like...