How to Check the ID of an Individual at your Door?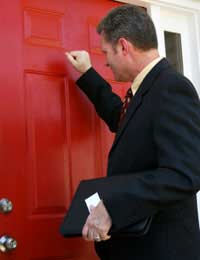 It is important if you live alone, or are left alone in the house, that you are conscious at all times of your own personal safety and also the safety of your property and personal information.
There will be occasions when you will have to allow access to individuals to carry out essential repairs or to install electrical equipment and as such you should be aware of who they are and which company or organisation they represent.
Unfortunately gone are the days when you could simply open your door and take at face value the identity of the person standing before you; in today's society things have changed and crimes against the self and property are on the increase so personal security is a must; one important aspect of personal security is knowing where a caller is from and if they are who they say they are?
Are You Expecting Anyone?
Most of us will know if we are expecting someone to visit our home to carry out work or repairs. It will doubtlessly have already been arranged for the visit to take place but you will rarely know exactly who the person attending will be unless they are a sole trader or unless the company is small enough to have only a set number of employees.
It is worth while remembering however that even though you are expecting someone you should still be on your guard as thieves and attackers often act on impulses and behave in an opportunist manner.
Make sure that whoever is visiting you on a set day at a set time contacts you by telephone - most repairmen and field service operatives have mobile telephones these days - to confirm that they are going to be on time or if they are going to be late
Keep the Chain On
If you have a security chain on your door always keep it on when answering the door to a stranger. A security chain may not necessarily prevent them from gaining access but it will slow them down sufficiently, perhaps enough for you to contact the police or sound an alarm if you have one. You should note however that this is not designed to frighten but simply to educate as to the risks inherent of answering the door unprepared.
Identification Cards
Most company representatives will have an identification card with their picture, company details, name and employee number on it and will display this on the outside of their clothing - usually on a breast pocket or lapel. If the person does not have identification you should ask them for a business card with their name and company details. They should ideally post this through your letterbox or hand it through the gap in the door (if you have a chain fitted). Keep the front door closed and locked while you contact the company on the business card - or compare it to the details you will already have on paperwork provided by the company if it is a delivery or installation. If the details do not match then do not allow the caller access. If there is any doubt contact a neighbour or friend and ask them to come to your house as soon as is possible. It is always better to check out an individual's ID than accept that the information on a potentially fake ID is correct
Call Their Mobile
Another good way of checking the validity of someone's claims is to contact the company, find out the details of a specific representative at their end and then have them call the caller's mobile telephone. If all is well you should be able to speak to the representative in the office on the caller's mobile telephone.
Peep Holes
A peep hole fitted into your front door is a good way of vetting any potential callers before opening the door. Peep holes are one way so you can see out but the individual on the other side cannot see you are there. This gives you the added advantage of being able to avoid answering the door without anyone knowing you are inside.
Two Way Intercom
Two way intercom systems are cheap and easy to fit and allow you to answer the door without going anywhere near it. You can install the intercom in the kitchen, the living room or the bedroom - wherever you spend most time - and ask for information about the caller's identity without exposing yourself to potential danger.
If you are in any doubt as to your own personal safety in the presence of strangers contact your local Neighbourhood Watch group or police liaison officer who will be happy to provide you with tips and advice on how to keep safe in the home.
You might also like...